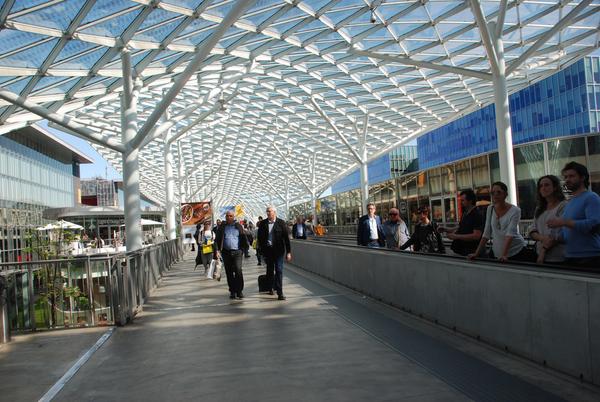 We've recently returned form our annual visit to the world's biggest furniture fair, Salone Internazionale del Mobile in Milan, and this year's show certainly did not disappoint. The mere size of Salone, part of Milan Design Week festival, is mind-blowing, including 24 exhibition halls at Rho Fiera Milano spread over 270,000 sq m, as well as hundreds of designer furniture showrooms in the centre of the city. According to official reports, 2,407 exhibitors and over 370,000 visitors attended the show this year.
In central Milan, most of the action is concentrated in the fashionable design district Brera, where most of the furniture showrooms are located. Brera is something like the Milan version of Clerkenwell, so the area is at the heart of Fuorisalone.
Fuorisalone is the commonly used name for all the events taking place in the city during Milano Design Week, including cocktail parties, new showroom launches and funky pop-up spaces for brands that don't have permanent Milan showrooms. Some brands choose to exhibit only at the show at Rho Fiera Milano, some choose to just run events in their showrooms, while others try to have it all, and do both. Space will never be enough to list all the inspiring new designs that we saw last week, but below you can have a look a small curated selection of our absolute favourites. 
This year Vitra exhibited both at the show and in a pop-up space in Spacio Edit in the city. Casa Vitra is the temporary space in Brera Design District, comprising a Vitra pop-up store, which is the brand's first shop with an exclusive focus on accessories, as well as a furnished classic Italian house with three floors of beautifully styled displays of Vitra residential furniture pieces.
"Colour Machine" installation by designer Hella Jongerius is positioned on the ground floor of Casa Vitra, and reflects the continuous refinement of the Colour and Material Library jointly developed by Jongerius and Vitra. The installation features giant spinning tops twirling on the floor, wheels composed of Panton chairs, DSW chair seats, and Aluminium chair backrests. 
"I don't have a favourite colour", another installation by Hella Jongerius
"Salone Grande", situated on the first floor of Casa Vitra and displaying new and existing furniture from the Vitra Home Collection. 
In Salone Grande you could see things like the Eames Lounge Chair in fabric upholstery 
Or beautifully colour-coordinated rooms showing different home settings
Organic chairs in blue
Softshell chairs in red
Aluminium chairs in the greens
"Colour Spa", on the second floor of Casa Vitra, is a collaboration between Vitra and USLU Airlines Nail Polish. Visitors could get a manicure in this improvised nail saloon with a limited edition of nail polishes in the shades of the Vitra colour world. 
Republic of Fritz Hansen moved to a new Milan flagship store in October 2015, at a charming Italian square which is also the site of one of the oldest churches in the city. During Salone they used this beautiful location to launch their new line of designer accessories, including candle holders, mirrors etc. In addition to the accessories collection, on display were the new Oxford Chair Premium, as well as some of the the new finishes of the products in their existing furniture collection, including Ro in Pimpernell fabric, and Ant chair in the new Fritz Hansen colours.  
Ro chair in Pimpernell fabric
Oxford chair premium, high back and low back
Kasthall, the Swedish company producing high-quality woven and hand-tufted rugs, had their usual stand at the fair, but they also showed a lot of new products in their stylish showroom on Piazza Paolo VI. Highlights included the new Archipelago and Pebble rug collections, as well as the new XL version of their iconic Goose Eye rug, designed by the late Gunilla Lagerhem Ullberg.
Kasthall Goose Eye and Pebble rugs
Kasthall Archipelago rug (detail)
The Danish brand HAY also had a huge pop-up space in Brera, located at the industrial-looking La Pelota event space. Salone marked the launch of their lighting brand Wrong.London, featuring several great pendant, floor and desk lamps with clever and clean design. Wrong.London focuses on creating progressive and accessible lighting products, and their philosophy is based on making the most of technological advancement and creating idiosyncratic designs. The Drum, Acordion and Cast table lamps below are produced in collaboration with the Dutch textile manufacturer Visco. 
Can sofa designed by the Bouroullec brothers for HAY, is a customisable self-assembly sofa that can be flat-packed. The cushions can also be removed from the sofa, so it can function as a sofa-bed if needed.
Ronan and Erwan Bouroullec also designed the outdoor furniture set that HAY used in their outdoor lunch bar (which served great mozzarella). 
Back to Fiera Milano, Knoll had some great new designs, exhibited alongside stunning marble wall backdrops and a marble floor. Piero Lissoni's Avios sofa took years to perfect, but it seems like it was worth the wait. The sofa is extremely comfortable and comes in a wide variety of shapes and sizes. Thanks to its clever construction, it can accommodate other items from the Knoll collection into its seat, like the Tulip side table which can slide in between seat cushions. 
Another launch at the Knoll stand was the new dining chair designed by Mark Krusin. It is a versatile chair which offers a choice between three shells, each of which can be easily mounted and unmounted from the base. So you can buy all three and alternate them depending on your mood/need.
Bertoia Diamond and Platner lounge chairs look really luxurious in the new Gold version. 
Saarinen Womb chair now comes in a softer, more comfortable Relax version, although you probably can't tell the difference, because the external design stays the same as the standard version. But it certainly passed the sitting test - very comfortable.
In addition, the Saarinen Womb Settee is now added to the collection. 
Saarinen Womb settee, front and back
Vitra's stand at the fair was slightly smaller this year due to their presence at Fuorisalone, yet ever so popular with visitors. The new products shown there included the APC plastic chair, a new sofa, a new Eames coffee table, based on a coffee table that Charles and Ray had in their House in California, as well as a new version of the Metal side table by Ronan and Erwan Bouroullec, now in a nature-inspired Wood finish.
Italian brand Zanotta's stand looked very fresh this year. Literally.
The stand of German brand Rolf Benz was designed around the theme "Circus", with decorative umbrellas and bowler hats hanging from the ceiling, adding a playful element to the styled home settings of extremely comfortable sofas and loungers.
The Portuguese joinery brand Wewood exhibited for a second time at Salone in Milan. This year they are launching two new products: The multifunctional Carousel sideboard with a revolving cylindrical section, marble top and airplane-style doors;
and a minimalistic solid oak desk, which has a playful grommet, which enables you to quickly clear things away from your desk into the drawer.
Carl Hansen & Søn presented their stand as a series of beautifully styled rooms. The highlights include the CH 22 lounge chair, CH26 dining chair and Woodlines Rug, presented earlier this year at Stockholm fair, as well as a new armchair version of the Embrace chair by EOOS.
Carl Hansen collaborates with lighting brand Louis Poulsen, so they had the newest Louis Poulsen pendants and table lamps on display, including the beautiful Patera.
Kartell's stand is always hard to miss. Organised under the title "Talking Minds", this year it looked like an explosion of colours, and it worked a little bit like a maze, making you go through a series of booths, each branded with the face of the designer whose products are on display inside, including Philippe Starck, Patricia Urquiolla, and Alberto and Francesco Meda.
The Italian brand Magis celebrated their 40-year anniversary this year.
Among the fresh new pieces that we liked is the Brut table by Konstantin Grcic, the Mila chair by Jaime Hayon, and the Officina collection by Ronan and Erwan Bouroullec. (Looks like the two Bouroullec brothers have been very busy in the past year). 
We can't wait to see some of these great designs in our own showrooms soon!
Check out our Facebook page for more photos from our Milan visit. Collection 2019 Sale 70% Off Title for image