Our Story
Back in 2003, my husband and I started to plan a business on our honeymoon. We wanted to focus on mid-century designs such as the Eames Lounge chair, the Egg chair and the Tulip table, as we loved these classics. But we didn't want our business to be like other "Designer" shops, which often have a superior air about them that can be off-putting. We wanted our business to have friendly, knowledgeable staff and be easy to deal with. I'm pleased to say that Couch Potato Company is still going strong well over a decade later. The range of brands we stock and the product portfolio has grown significantly since 2003. As well as being main stockists for big brands such as Vitra, Knoll and Fritz Hansen we now represent some niche European brands like Stouby and Wewood as the UK importer. But we still have the same criteria when considering whether to include a new product range in our collection: It must be well-designed, practical and great to look at. Our business ethos has not changed since we started trading – we aim for happy customers. It's that simple.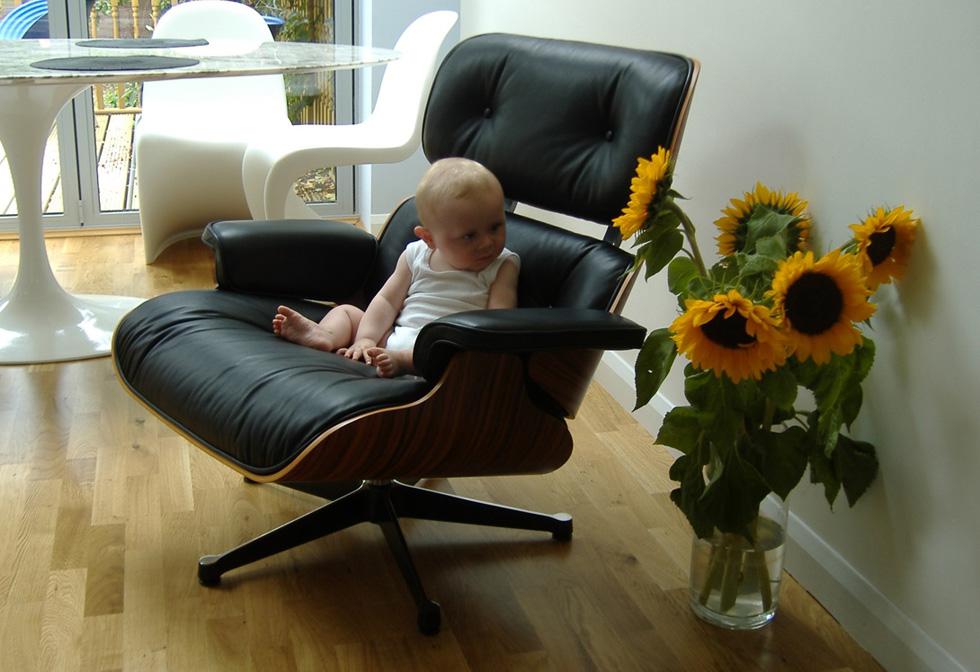 Looking after the Eames Lounge chair for the next generation
Why Us
Price Promise
We have a Price Promise guarantee. We are constantly checking our prices so you can rest assured that we are always competitive. If you have received a genuine quote from another retailer of Authorised Originals (no copies!) we will match it if we can. Give us a try. We only sell premium products, which are all genuine so they aren't going to be "cheap". However, we truly believe you get what you pay for. Whether you are a trade buyer or buying several items we will give you our best possible pricing. Check out our Couch Club page for more ways to save on your order.

If you are sourcing a large amount of furniture at one time, e.g for a new home or as part of a refurbishment, please contact us for Project pricing. We are able to offer bulk buy discounts for orders over £8,000.
Shopping with us
Many of our products have a wide choice of finishes and options. To see a final price, make your choices from the available drop-down menus and then click on your preferred colour swatch, where appropriate. Usually fabric and leathers are in different price categories, so clicking on different swatches often affects the final price of a product.

For many products there is an almost endless choice of options, especially when it comes to fabrics and leathers for sofas and chairs. We have given the most popular choices as well as those which reflect the product images, so you can get a good idea of how a product will look in a particular colour or finish.

For some of our brands, any colour in a particular fabric or leather is available. This applies to most Knoll, Stouby and Fritz Hansen upholstered products. So if you see a fabric you like but would prefer a different colour, we can show you all the possible colours available in that fabric range. And if you would like to see some fabric or leather samples to help make your final decision, we can send up to 6 samples free of charge to any UK address. We also have a wide range of samples in our showroom.

Products with a quickship option will have the relevant quickship finish highlighted. Please note that only certain finishes are available on quickship, and if you select a different finish to those highlighted as quickship, standard lead times will apply.

For more information on selecting products and advice on choosing leathers and fabrics, visit our Buyer's guide. And feel free to contact us, we are here to help.
International Deliveries
We are shipping our furniture overseas more and more each year. As with all UK deliveries, our International service provides full insurance for loss or damage whist in transit. Due to different pricing in different countries and the sheer lack of competition in some regions, you may find it more expensive to buy in your home country than from us – even after you have factored in shipping. This is especially true if you are buying a large number of items at one time. We will liaise with several shipping companies in order to get the best shipping price and service. Some of the recent places we have sent furniture include: South Korea, Australia; M.A, USA, Copenhagen, Paris, Megeve, Munich, and Amsterdam. We will also help to manage any VAT exemptions and paperwork required for customs.
Space Planning and Visualisation
If you are looking to furnish an entire room or your entire house, we can help give you an idea of what the end result will look like before you spend, and we can help guide you through different options. Perhaps you need help with planning your space, to see which sofa design or table size and shape is best for you? We can suggest options using our space planning tools, to best utilise the size and shape of your room. Or, if you need help in visualising some of our sofas in a particular colour, please get in touch.
Delivery Service
We always aim for our customers to be happy with their buying experience, all the way through to delivery. If you are based in London or inside the M25 you can choose between the following options, which differ in price:


- Delivery only

- Delivery & installation. This includes set up of the furniture in your room of choice and removal of all packaging.*

We can also book ahead a specific day, given enough notice. So if you would like a special gift delivered for a birthday or anniversary, we will work with you to get the timing right.

We don't just send out your order once it arrives and assume you will be in. We will arrange a convenient day for delivery, and if you are based in London/inside M25 we can usually provide a 3-hour time slot so you don't need to wait in all day. Outside of this delivery area, we use a combination of approved couriers and transport companies. Usually a guaranteed morning slot is available for a small additional charge.

* Our own delivery service can be booked where available. Our courier service also allows you to choose your preferred day Monday to Friday.

Knowledge
We have some of the best product specialists in the industry. We have a very high staff retention level, and we are proud of our team. This means they build a huge amount of product knowledge. Our team undergo continuous product training for all our key products, often including factory trips to fully understand how each piece is made. We also attend all the main European Design shows to stay ahead of industry trends and new product launches.
Efficiency
Unlike some of the larger stores, we don't sit on your order for a week. We aim to process all orders within 24 hours. And once we have received your goods, we like to get them to you ASAP by arranging a convenient date for delivery.
We are here
We have a small showroom near London Waterloo, after we moved from Twickenham in 2015. The showroom is open 6 days a week and we display some of our iconic bestsellers as well as some more unique pieces. If you are making a special trip, please get in touch to see if the item you would like to see is on display. We have a wide range of fabric and leather samples as well as swatches of the main materials, including small blocks of marbles for Saarinen Tulip tables. We can also organise showroom visits to the London brand showrooms of our suppliers, including Knoll, Vitra, Hay and Fritz Hansen. We enjoy helping clients to find the optimal furniture for their space. Please feel free to pop in and see us to discuss your requirements, view fabric samples or just to have a browse. You can get in touch via our website, by popping in, by email or by 'phone.

Trade Enquiries
We have many customers who are buying for their business, as well as Interior Designers and Architects who specify our products for their clients. We provide a competitive and efficient service, and we can loan products for client approval where available. Please email or call with your trade enquiry. Take a look at the Trade Enquiries tab for more information, where you will also see some of our client installations.
Quicker Leadtimes
We carry stock of some of the most popular items and we have access to the Quick Ship programmes of all our suppliers. This means that some products are available in 2 to 3 weeks or less. The average leadtime for other products is 6-8 weeks. Either way, we don't hold on to your products once we have them ready – we aim to get all products out to customers within 2 -3 days of them arriving with us. Please ask for an estimated leadtime before you order if timing is an issue for you.