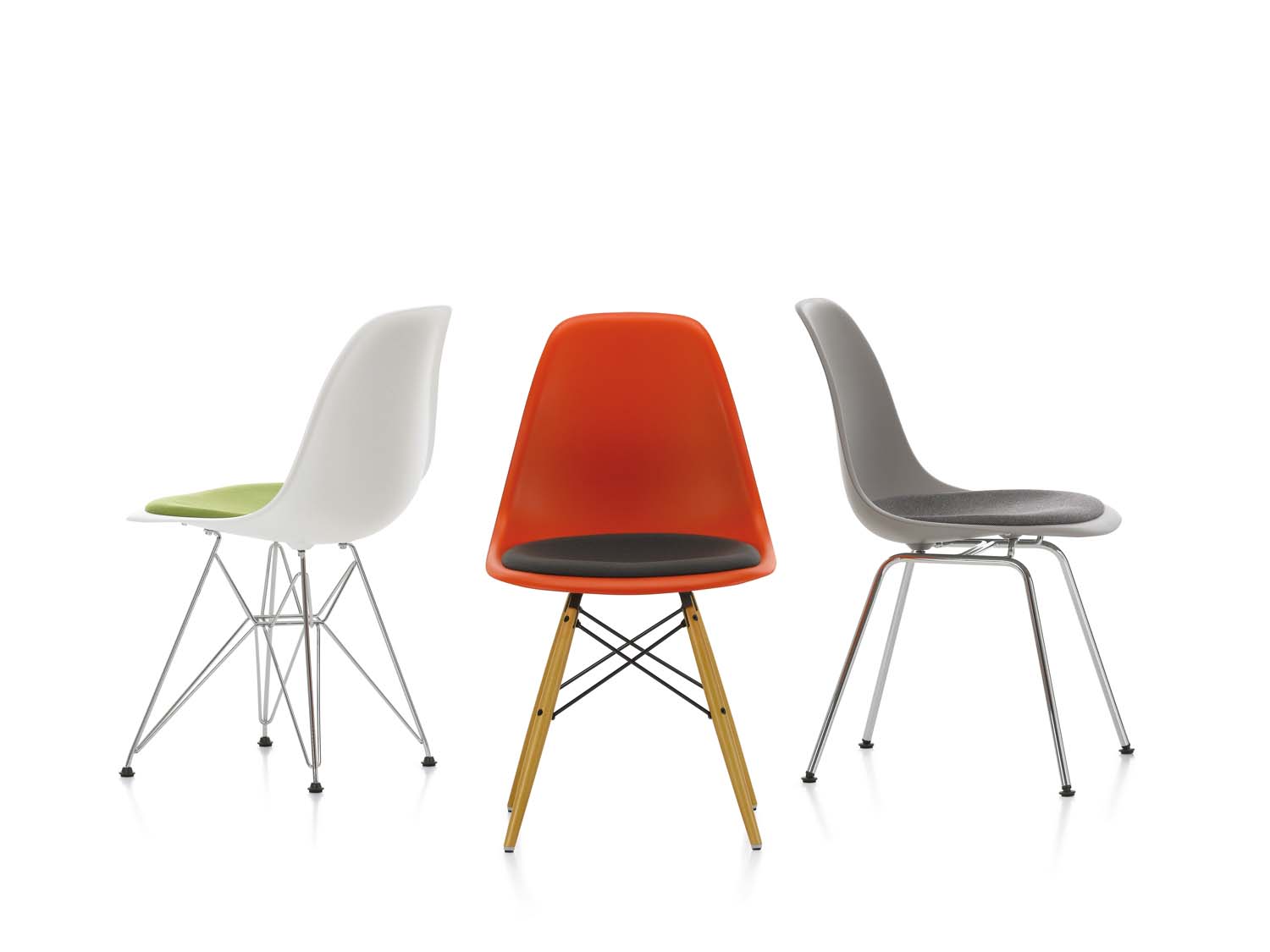 "Getting the most of the best to the greatest number of people for the least": This is how Charles and Ray Eames described one of their main aims as furniture designers. The Eames Plastic Chairs are among the products that come very close to achieving this goal. 
The Plastic chair collection, launched in 1950, introduced a new furniture typology, which has since become widespread in the industry: the multifunctional Eames Plastic chair offers a variety of base options, as well as shell and upholstery colours.
Initially made of polyester reinforced with fibreglass, the Plastic chair offered a high level of comfort, both as a dining and office chair. Vitra discontinued the fibreglass models in 1993 for ecological reasons, and nowadays the original Eames Plastic Chairs from Vitra come with polypropylene shells, which are more environmentally friendly. 
Today you can specify the most optimal combination for your perfect chair, so it can be used in a dining room, home office, or sitting room, depending on your needs. And the best thing is that your Eames Plastic chair won't go out of fashion any time soon, because the chairs from the Eames collection are true design icons, and as such, they have acquired timeless aesthetic value.
With two types of shell (side chair or armchair), over 5 types of base, 14 shell colours, and 28 upholstery colours (for a seat-only or full inner shell upholstery), the combinations available for the Eames Plastic Chairs are virtually endless. To highlight this abundance of choice, Vitra are introducing an updated version of their product configurator, which helps you specify your very own personal Eames Plastic Chair design and check how it will look before you order. 
How does the campaign work?
Enter the world of the Eames Plastic Chair at your favourite dealer (our showroom is very conveniently located near London Waterloo! ;))
Choose the colour, seat shell, base and upholstery for your perfect chair
Enjoy your original Eames Plastic Chair in your home
Get a free Vitra tote bag as a complimentary gift with each purchase of an Eames Plastic Chair (free gift available while stocks last, one bag per customer)
Vitra tote bag (front and back)
Did you know that the names of the different Eames Plastic chairs can provide some clues about the base and shell type? 
DSR = Dining height Side chair, Rod base
DSW = Dining height Side chair, Wooden base
DAX = Dining height Armchair, X-base
DAL = Dining height Armchair, La Fonda base
PSCC = Pivot Side chair, Cast base on Castors
Not sure where to start? Just play around with the Vitra Configurator, or search for the hashtag #VitraOriginal on Facebook, Twitter or Instagram to get inspired by other users' configurations and how they look in situ in their homes. Or why don't you pop into our London showroom, and we would be happy to help you with your choice and provide you with advice and inspiration.
 The Eames DSR, DSW and DSX are all part of the Eames Plastic Chair collection Collection 2019 Sale 70% Off Title for image