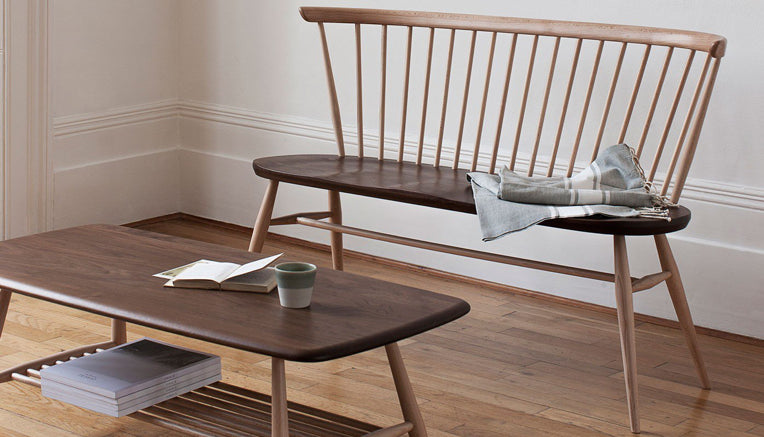 "Design for comfort, design for function, design for beauty"
Ercol was founded in 1920 by Lucian Ercolani and will therefore celebrate their 100th anniversary in a few months. We believe Ercol stands the test of time due to the perfect balance between good design and small batch construction, much or which is done by hand to this day.
All products are made in their UK factory, highlighting the very best of British design and Craftmanship. Ercol use mainly hard woods including: ash, elm, beech, oak and walnut to produce their durable pieces.
We've selected below a few successful products made by this British Manufacturer:
Taking its name from the sculpted back, this iconic chair was introduced in the late 50's. It was quite unusual at that time to have elegant curves mixed with flare legs, but it made the Butterfly Chair one of Ercol's most popular products. For over 60 years, this balance between comfort and elegance has given it a timeless status.
Part of Ercol's Windsor Collection, the 1950's Love Seat offers great comfort in an organic form, inspired by the Windsor chair.
This stylish extending table is available is 3 sizes: small, medium or large. It is made in oak and its curved edges & slim legs make it the perfect dining table in a time when small living spaces are becoming a reality for more of us – smart designs are now more important than ever.
The Treviso desk was designed by Matthew Hilton in 2009. The desk has a clean, contemporary look and is available in pale oak or rich dark walnut.
Treviso manages to look both mid-century and modern – the sign of another classic to stand the test of time. It works perfectly with the Butterfly chair for home working or as a dressing table. Collection 2019 Sale 70% Off Title for image