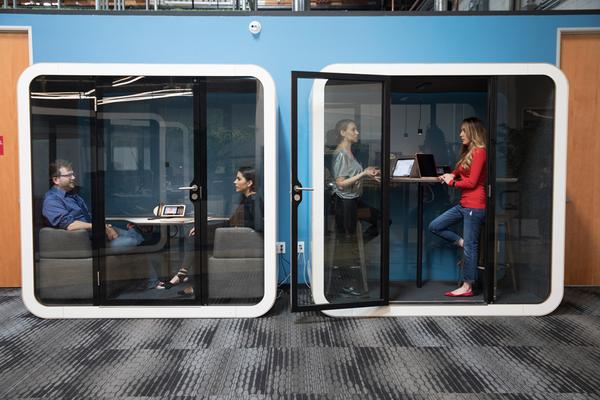 When we talk about productivity at home, two of the biggest challenges to tackle are background noise and distractions. Have you ever tried to make an important business call while working from home, and found yourself trying to outshout the kids and the dog? Or participated in a video conference from your living room, and felt embarrassed about the clutter in the background. If that has happened one time too many, you might consider installing an acoustic privacy booth, such as the Framery O available from our sister company Office Blueprint. This compact soundproof booth has great sound insulation, and blocks sound from entering or leaving space. You can use the booth for Skype or video conferences, or simply to get away and focus on important tasks in silence.
Framery O can help solve the issues with privacy and acoustics
Originally designed to bring some privacy to open-plan offices, these compact booths can also work quite well within a home office. The booths' small footprint - 1 x 1m - allows for flexibility with their positioning within the house. The Framery booths also come in a larger size, Framery Q (1.2 x 2m), which can be configured in four different ways to use as a meeting room for 2-4 people, workspace for one, or as a space for dynamic group work sessions. 
Framery Q can be configured in several different ways, depending on your needs
Get in touch with us for more information about the Framery booths, or for more ideas on dealing with problems with acoustics.
Also make sure to check out the other blog posts from our home office series, including How to choose a task chair and How to choose a desk. Collection 2019 Sale 70% Off Title for image