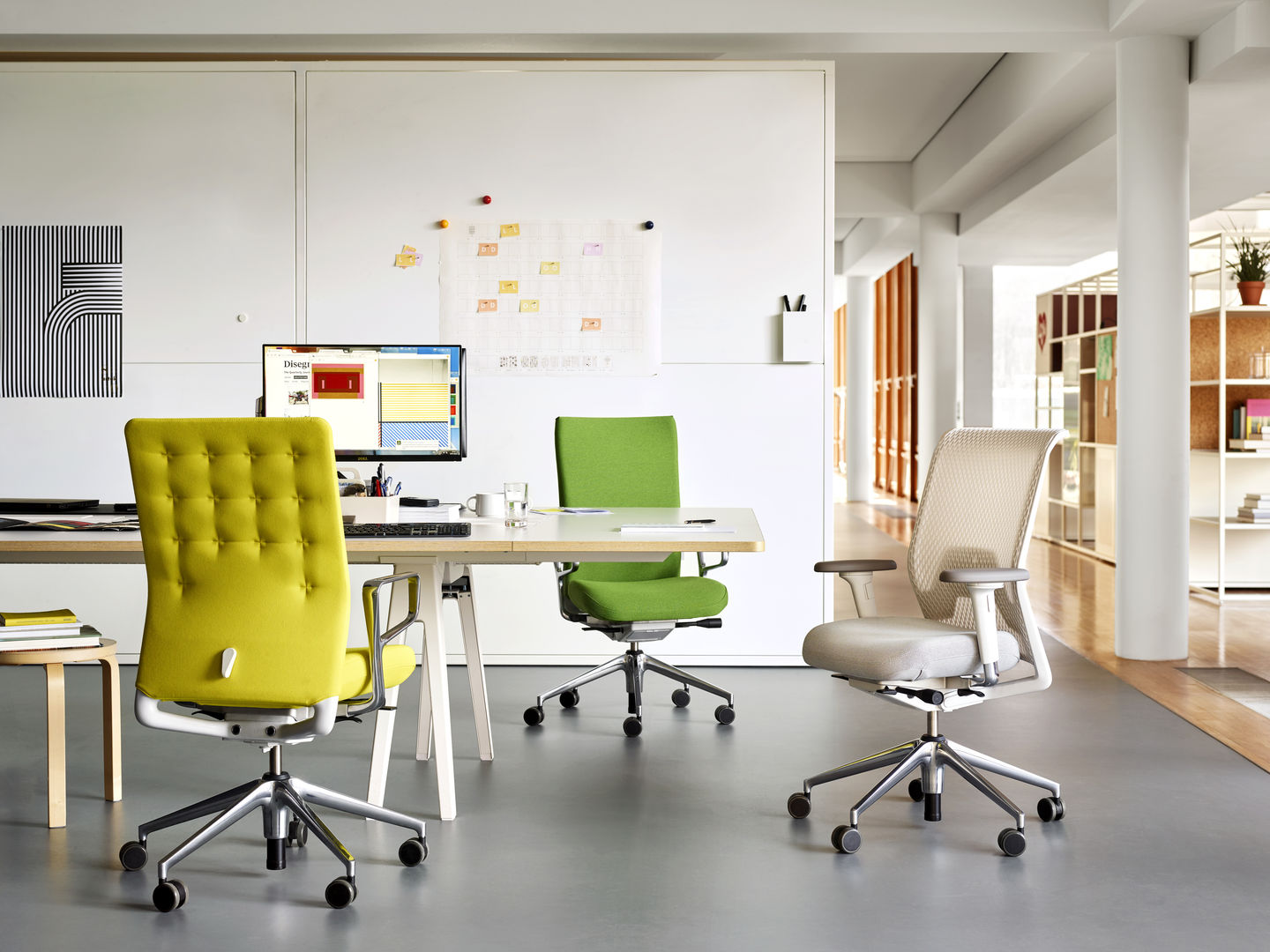 In our
last blog post
we discussed the importance of ergonomics and wellbeing when choosing furniture for your home office.
The task chair you sit on has a huge impact on your wellbeing and comfort. Sometimes it's tempting to go with the cheapest option, but considering how much time we spend sitting, it's worth investing time to research and choose a well-designed ergonomic chair that will serve you well in the long term.
Chair mechanisms
Some of the main features to look out for in an office chair are the mechanisms that control the seat, armrests, and backrest, such as seat height adjustment, synchro tilt, knee tilt, and backrest height adjustment. Most work chairs have levers to control these, located under the seat.
Seat height
How do you know your chair is set at the right height? Ideally, your feet should be resting flat on the ground, and your knees should form a 90-degree angle when sitting. Again, most work chairs will have a mechanism to adjust the seat height to your preferred height. It's always a good idea to try the chair in person before buying, so you can be sure it's the right model and size for you.
Lumbar support
If you suffer from back pain, and frankly, even if you don't, look for a chair with adequate lumbar support. The lumbar support is the cushioning which is usually found in the backrest. Ergonomic office chairs allow you to control the lumbar position via adjusting the height of the backrest. As a rule of thumb, the lumbar support should follow the natural curve of your back.
Upholstery
Another important element of a good office chair is the upholstery. There are so many options out there, that it's easy to get overwhelmed. Selecting the fabric or leather is often a matter of personal taste or budget, but if you know what to look for, it's easier to narrow down the choice. Fabrics with a high wool content, for example, are able to withstand a high amount of wear and tear, and are also less likely to crease. Wool is also known for its great thermal insulation. Woven mesh seats and backrests are also increasingly popular with work chairs, as they allow for better air circulation. Leather upholstery is very durable and easy to maintain, so it's suitable for homes with small children. Check out our Buyer's Guide for more detailed information on choosing fabric or leather upholstery.
Castors
Last but not least, consider whether you will be using the chair on a hard floor, or with a carpet. Many manufacturers nowadays offer wheels for both types of floor. Braked castors for hard floor will stop the chair from rolling away on the hard floor when no one is sitting on it, and they are also designed not to scratch hard floors. Castors for carpet, on the other hand, will facilitate the chair's movement within carpeted areas.
Task chair ideas
There are lots of great office chairs out there, but below is a list of models which could work particularly well in a home office.
Eames EA 117. A true 20th century design icon, the Eames Aluminium chair EA 117 has a swivel base, adjustable seat, and a tilt mechanism which can be adjusted to the user's weight. If you like the look of this chair, but don't need the seat height adjustment or the armrests, Eames EA 101 and EA 104 are the slightly cheaper alternatives in the Eames Aluminium Group of chairs. 
Lei chair. This chair designed by Monika Förster for Officeline has been specifically created for women, following years of ergonomics research. Its lumbar support follows your body, even as you lean forward, and provides support in all three working positions: active, upright, and reclined.
Allstar. Designed by Konstanting Grcic for Vitra, Allstar is a modern funky office chair, which blurs the lines between work and play.
Generation chair. A smart, flexible office chair by Knoll that adapts to your body movement. The mesh upholstery encourages air flow for optimal comfort.
AAC52. Part of HAY's About A Chair series, AAC52 is an elegant plastic task chair, which is light and easy to move around. Great choice for student accommodations or informal home offices. 
Pivot. This soft and comfortable chair by Vitra is perfect for the home office. Its slender backrest allows considerable freedom of movement. Thanks to its flexible shape, the chair can also be used in a sideways position. 
ID Air Chair. This is a well-priced fully ergonomic chair offering a high degree of comfort. Part of the ID Chair Concept system by Vitra. 
If you found this article useful, make sure to also check out the rest of our blog posts on how to create the perfect home study: How to choose a home office desk, and How to deal with noise.
Get in touch with us if you need more office chair ideas, or a quote. Collection 2019 Sale 70% Off Title for image